COMMUNICATIONS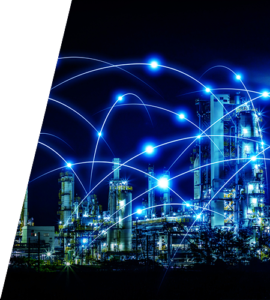 Traditionally, the telecommunications industry had hardware, software and services as three pillars. But in the Digital Age, hardware, software and services are changing rapidly to accommodate the continuous blurring of lines between existing technologies. For example, Voice over IP (VoIP) changed the way we viewed telephones and, going one step further, we are at a point where we don't require a handset to conduct a telephone conversation.
One of the key consequence of this blurring of lines between technologies is a data implosion of significant order. Having an ability to build measurable analytics for this data serves not only as a means for telcos to improve quality of service significantly, but also helps them stay relevant and competitive. Additionally, using Internet of Things (IOT) to gather real time machine-to-machine metrics allows us to automate both operational and business applications.
Our deep expertise within the Telecommunications industry, our core technology and data management solutions uniquely position us to provide Telcos with the right strategy and execution. As companies work to traverse the legacy to digital landscape, Xeenius is bridging the gap with experience, personnel and  solutions to ease the pathway. In the telecommunications industry, the need is especially acute with blurred lines between hardware, software and services. Our core data management and technology experience help deliver the right strategies and execution in a evolving environment.  We deliver: Professional services and Managed Services Solutions (onshore and offshore) to help automate operational and business functions
 Data analytics and metrics
Oracle updates and conversions
CORE COMPETENCIES
Expert support and consulting surrounding  transforming systems. Example areas include:
+   Java developers (Spring, Angular.js, react.js)
+  .NET developers
+  Big Data – Cassandra, Pentaho, Spark, Scala, Python
+  Salesforce
+  Telcom Business Analyst
+  Project Managers
+  Dev Ops Engineers – Weblogic, Tomcat, AWA
Seamlessly streamlining back-office operations and front-end customer experience
Oracle – As one of the Top 10 Oracle Solution Providers, we have proven expertise in retail, applications, E-Business Suites, Cloud Applications, PaaS, Web & Digital, etc.
DIFFERENTIATORS
Xeenius has a proven track record to ensure a technology ROI for its clients.
The People – Core to our ability to deliver for our clients is exact and relevant project experience by the members of the Xeenius team. We have a broad range of expertise in understanding legacy platforms, developing/implementing cloud-based applications and cross-platform architectures.
Onshore and Off-Shore Experience – Xeenius has a strong team of developers, Dev Ops engineers, Big Data analyst, and software developers both onshore and off-shore that effectively meet time and budget requirements on a regular basis.
Valued Technology Partner — Rated one of the Top 10 Oracle Solution Providers, our past performance is validated by Oracle and our other technology partners. We work in concert with them to develop solutions consistent with their direction, vision and product delivery. This keeps us up-to-date on existing and emerging technologies and how to use innovative technology to create the  best value for customers.
PAST PERFORMANCE
A. Direct Telecom Expertise – Led principal architect for a major telecommunications company in class provisioning platform that was the foundation for the largest hosted exchange platform in the world before Microsoft Office 365. Also, worked with cross functional technical and management teams to develop and manage $5 M to $10M capital budgets, as well as devised strategic architecture roadmap for commercial systems.
B. Data Analysis and Reporting – We have assisted a variety of clients to transform their mainframe legacy environment to an updated cloud-based environment that delivers real-time data analysis and decision-making solutions for the business of today.
C. Retail ROI in Three Days – A global retail client was considering implementing expansive use of WebMethods as part of its technology integration stack. We advised against doing so. Instead, we developed three Proof of Concept options to demonstrate the value behind our approach. Our chosen methods saved money and added long-term benefits to extend their IT ecosystem.