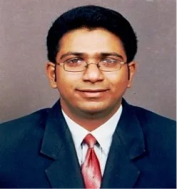 Balaji Rajagopalan
Director - Operations, India
Balaji Rajagopalan is Director of Operations in India for Xeenius. He has extensive experience in identifying and collaborating with channel partners, monitoring accounts, communicating with vendors, implementing process management, preparing MIS reports for executives and executing SAP applications in finance and logistics.
Bajali  brings significant local and international experience in operations, commercial finance, project management and execution. He has worked in several industry sectors, including renewable energy, telecommunications and information management.
Balaji also has in-field and hands-on experience in end-to-end execution of wind farm projects. He has managed scrutinizing land documents and ownership deeds, loan proposals and loan documentation and execution, as well as clearing and forwarding of goods from the port, deployment of wind electric generators and implementation of SCADA communications system for wind farms.
Balaji has successfully led multiple projects locally in India, as well as in APAC countries for leading companies  – Reliance, Shriram Energy, Orient Green to name a few.
Bajali is experienced in:
Operational Finance
Business Process Management
Process Automation
Program / Project Management
Cross functional Leadership
Functional Analysis​
Operational Analysis & ROI Planning and Execution
Financial reporting & Analytics.